I know this question may sounds weird and unimportant for some people. However, sometimes I'm wondering what's on your mind when you buying a mobile game. Do you always compare the playtime/ quality/ other thing with the money that you spent on it? Or you just let it go and feels like a little way to support indie developer? May be yes, may be no. So actually how much does a mobile game should be cost? Here is my opinion about how much a mobile game (iOS/ Android) should be priced.
First, let's see how much in average a PC game cost.. Five until ten dollars. Then, see how much a mobile game cost in average... one until two dollars. Actually I don't see any difference why the mobile games are being so cheap in price? I believe the development cost may cheaper than a PC game did, but while we talk about effort, doesn't it feel same? The value (not money) but the game's soul, the heart which given by the developer on it. However, still most of mobile user think if a mobile game which cost more than two dollars is too expensive. That's why I'm wondering how much actually a mobile game should be cost. Talk in my point of view, I divided them into 3 kinds of mobile game with how much they should be cost.
First, an usual endless runner or other game with mainstream genre can't be a premium app if there's nothing new from your game. The reason are:
Your game has too many opponents which can be better or worse than yours
Gamer/ people already sick with the same endless runner or those genres, over and over again
You make your game with IAP style related, double or triple kinds of currency, energy, etc

Your game doesn't provide more than 3 kinds of core gameplay. For example: Your endless runner game just focusing on customization, power ups upgrade, and has similar gameplay like Temple Run/ Subway Surfers or other similar runner on the App Store/ Google Play.

I know it's not easy to make any games, but please if you want your game to be success, you should prove it with something better than that.

Now, you make something new with your kind of endless runner game but your game has one new feature only, no more. Except you believe it'll be fun for anyone who play it since the first time, I suggest you not make your game premium. Trust me it won't work so well.
Any endless runner game without something really new/ fresh should be free to play (at least for now), to be honest. Except back on my statement above, you trust that your game will engage everyone since their first play, nah you can go with the paid model.
If I made it free to play. How can I get the money?
You can add some IAP or put ads inside. To be honest, I got a project too from my school and we like to make such kind of action platformer game for mobile. I won't make the game endless, but I try to make it level based. Then I just realized if the game can be completed in one hour or less (since not many levels on it), probably there's no more reason for people to back and play it.
Then before I continue I want to ask a you a question, what's the reason behind a developer make a game beside for money of course?
Yes, money is the first answer but the second answer is because only with a game we as developer can pour our dream, childhood, fantasy on it. It's same like an artist who loves drawing, carving, etc. The developers are same. When you're not a full time developer, sharing your fun with others is more wonderful than how much money you got from it in actual.
So how can you make any money from your game?
In this case, I'll answer based on my project. Currently I plan to make it free with optional IAP to remove ads and unlock more levels in the future update. Why don't I make it as a paid game?
Being indie especially if you're new into this world (Google Play) is so hard. There's already built a high barrier with thorn surrounding it, and they feel like saying if your game will be overlooked. Sure nobody wants that, but anticipation is better than regret in the next days. That's why the easy way right now is giving people chance to try out your game for free. Most of game developers also a gamer, just see it from gamer's point of view and imagine if you're got an offer from a stranger developer which you never hear before. It's different from buying a game from Ubisoft, Square Enix, etc. Right now, we have no name and all we can do just giving out our best to build the player's trust.
Second, a game about experience, feel, and more experimental game should be cost at least $3 or more. Why?
Well, let's take some example: talk about Monument Valley, Spirits of Spring, Botanicula, Unmechanical, etc. All of them are smart games which didn't talk about a game only but sold other aspect like life value, eye pleasure, fun experience, beautiful environment, and other things not just the unlimited replay value. If you feel your game consists of those aspects, there's no need to think twice to price your game more than $3. Why don't price it more than $10?
Hmm, it's quite hard to be answered.... Like what I said above there's stereotype that already built in mobile gamer's mind though not for everyone. Though it's more than a pleasure while knowing iOS gamer has open mind than android user did in actual. While a comic below show that Android users always prefer free games, unlike the iOS one. #Well, I know it just sarcasm picture, though in fact it's kinda true ;) However, mostly developer nowadays is easy to get panic while the sales doesn't go as well as they're expected.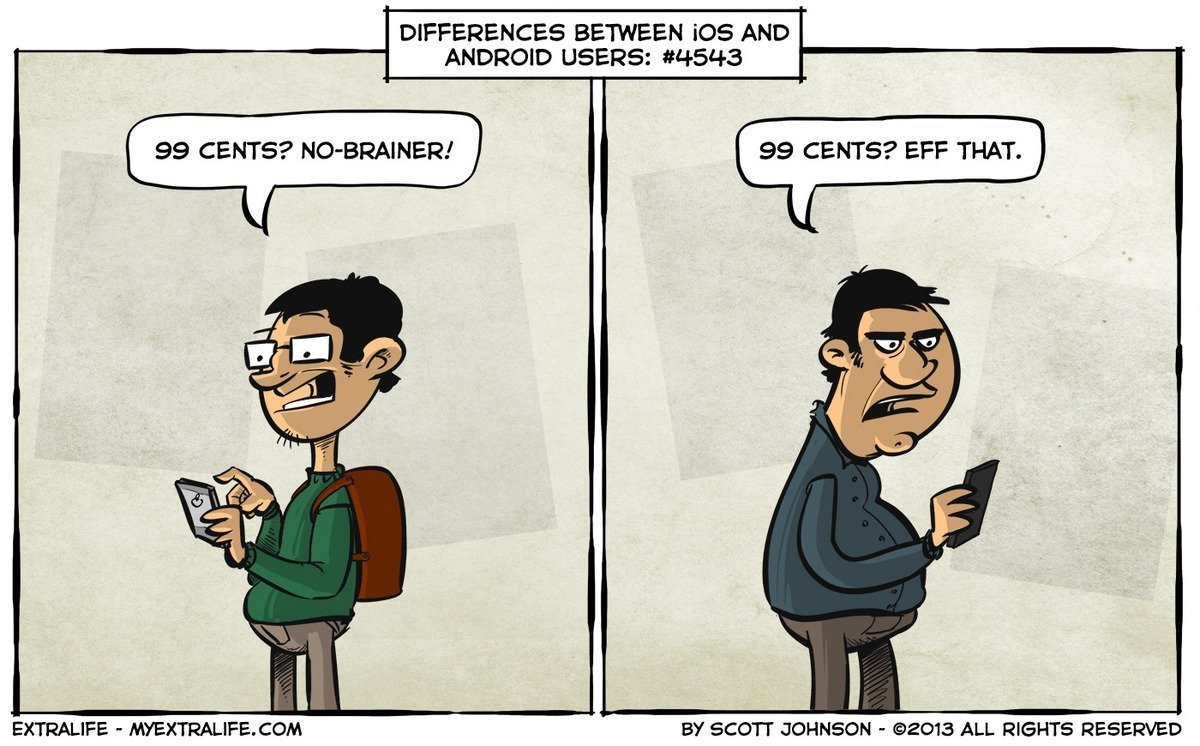 What should you do then?
Make your game paid on iOS, or free-to-try on Android with IAP to unlock the full version. Don't sold the premium one or it's easier for your game to got pirated on Android platform (iOS too, but harder because you need jailnreak the device). Other way, both (iOS and Android) of your game are using the same method (free-to-try). However, please make sure if you gave the core play of the game that was not a silly teaser only. The free levels should represent the prolog, gave the tickle feeling before player can reach the main story or it won't work.
Most of developers made a wrong thing, playing 3-5 levels of games which feels like a tutorial doesn't enough to encourage us for buying the full game. Make your teaser levels appealing enough for player to know more about your game, don't make them stop because they think the game is suck, too easy, too hard, or uninteresting. If you confidence enough with your game, just go with premium version only, but like my first said, please make sure if you have take the right decision; spread the word about your game, spent your promo codes for press media/ review sites, make a cool gameplay trailer for your game, and keep in touch with your buyer's feedback.
Third, an instabuy game along with a free to pick game
Both of this kind of game are quite easy to be got on the App Store. An instabuy game definitely a game with reliable/ reasonable price all at cost. Basically, the game already has name and is "a worth long-wait game". The developer of the game already smart enough to introduce their game before its released along with all the development stage. So as an 'upcoming' buyer, we already know how much effort they've put into their game. No matter it'll be free to play or paid, the game will definitely got a download.
Before we think about our revenue, let's compare it with the download. The number of download also a significant measure for your game, not just your sales revenue only. Okay, let's abandon what pirate said. They're everywhere, but what you should do is make sure that your game is worth to download and to be waited for, even when you finally decided to use the free-to-play method.
Personally, I like both premium and free games. Free games can be the best option to be played while I have no credits left on my iTunes account. Moreover, I don't need to think twice to download the game while there's no clear information about the game. Just hit the download, play it for 10 or 15 minutes, then decide if I should keep it or delete it. While with a premium game, I have to make sure first if I don't make a wrong decision, because there're so many scam/ fake apps on the App Store too.
I should search some information regarding the game, check the site, watch the trailer, etc. Though, of course you can ask for a refund if you don't like the app. Hope this help, if any of you have other opinion about this, let me know in the comment section :)